Location of
Golf Lodge, North Berwick , East Lothian
Bedrooms 6: 2 suites + 2 queen sized beds, 4 doubles. Sleeps: 14. No Pets - sorry.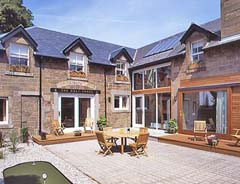 Use the controls on the left of the map to zoom in and out.
You can also drag the picture about with your mouse.
Holiday activities near North Berwick and things to see around East Lothian
Owners Top 5 things to do!
Visit 13th Century Dirleton Castle & Tantallon Castle
Walk the John Muir Way
Visit the Seabird Centre & go on Bass Rock Safari ride
Play golf at North Berwick West Links
Have picnic on beautiful Yellowcraigs beach.